Roping Saddle
Team Roping Saddles and Calf Roping Saddles handmade by Bruce Cheaney
Custom made saddles used by Horseman such as Robbie Schroeder, J.D. Yates, Steve Orth, Sam Rose, Bryan Delius.
The materials used for Cheaney Custom Handmade Saddles is the best money can buy and of the highest quality.
Each saddle is made by Bruce Cheaney totally by hand and one at a time and every attention to detail is taken for a truly custom saddle.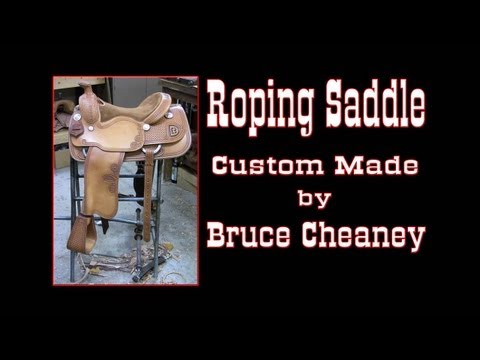 Calf Roping Saddle – Handmade by Bruce Cheaney Custom Saddles
Custom made calf roping saddle features the best materials for a roping saddle that money can buy. A custom made calf roping saddle starts off with a high quality saddle tree, you have a choice of the traditional rawhide covered saddle tree or the precision made tree which is Kevlar coated, each of these saddle trees will perform very well and are made to fit the horse and rider and provide comfort to both. All the leather that goes on a Cheaney Custom Saddle is hand cut, shaped and formed to fit perfectly onto the saddle tree this is what makes the difference in a custom made saddle and a non-custom made saddle.  The saddle trees in a Cheaney Custom Calf Roping Saddle are a TM Roper, Olin Young Roper, DR Roper, Chuck Shepard or a Bowman Roper.
The calf roping saddle pictured above was custom made for Brian Delius and made to his specifications and features handmade flank buckles with his initials and flower and leaf design mounted on steel hand formed buckles made by Bruce Cheaney. The saddle dees are also hand forged and beveled and the back dees are mounted with the flower and leaf design to match the handmade flank buckles. The four inch deep roper stirrups are hand sewn and block stamped with birds eye border and english scroll, this stirrup has a good weight to it and allows the roper to get his foot out of the stirrup quickly.
To inquire about a Bruce Cheaney Custom calf roping saddle use the contact BC form.
Roping Saddles – Custom Saddles by Bruce Cheaney
Custom made calf roping and team roping saddles handmade by Bruce Cheaney of Gainesville, Texas. Custom roping saddles start off with the finest saddle trees available, you have a choice of coverings tradition rawhide covered wood saddle trees or the more modern covering which is hand laid Kevlar and clear cote, Kevlar is five times stronger than steel and makes a very strong saddle tree that will take the abuse of team roping and calf roping.
Pictured to the right is a Custom Made Roping Saddle that was custom ordered by a customer and made to his specifications and taste.
This custom roping saddle features a red oak and acorn pattern and the oak leaves are big enough that you can see the details in the roping arena. The stamping, carving tooling are quiet deep with extensive back ground work around the oak leaves and acorns to really make the design stand up and out.
The Saddle Skirting used on this custom roping saddle is tanned by the Hermann Oak Leather Company, Saint Louis, Missouri and is the finest tooling leather available anywhere, not only does it tool and carve well it can withstand extreme hard use and the elements of weather.
A Calf Roping or Team Roping Saddle can be made for you by Bruce Cheaney and you will have a unique piece of equipment that you will be proud of and made to your specifications.  Each custom saddle is made one at a time and attention is given to every detail to offer comfort to the horse and rider.  To inquire about a custom made saddle for you, use the Contact BC tab and tell Bruce what you have in mind for a roping saddle and he will get back with you with details, pricing and the delivery time.  Delivery time is usually four months from the time you order your custom made saddle.